The Shelly is a prefabricated modular home shell.
The Shelly is the (FIY) "finish it yourself" version of The Dwelly and is available to owner builders and contractors.
The Shelly offers project savings to owner builders in the form of sweat equity and contractor grade finishing costs & profit mark up. The Shelly also allows the buyer a greater level of customization on the finishes, floorplans and controls on the project completion timelines.
The Shelly is delivered to site at a typical Municipal Sheathing Inspection stage. (see below). Everything else would be done by the owner/builder.
The Shelly starts at $27,000. There would need to be a registered builder or Owner Builder to:
coordinate the build permits and provide the HPO required 2-5-10 warranties

do the foundations (helical piles or concrete piers)

supply materials, trades and labour to finish the Shelly.
Note: We provide the Architectural drawings and engineering details for the Shelly Structure.
Sheathing Inspection Stage:
After building is framed, roofing plus all windows and doors are installed, exterior fittings and penetrations are in place and structural engineer has reviewed structural sheathing.
Note: Ensure all windows and doors have the correct label to verify compliance to NAFS standards.
Foundations are completed by the owner/builder, we drop off the Shelly and the owner/builder calls for the sheathing inspection. After inspection the owner builder finishes the Shelly as per a normal site build.
Final note for the sake of clarity.
For The Dwelly we provide a CSA/CAN A277 Build permit approved turn key Plug & Stay Dwelling.
For The Shelly we provide only a prefab structure to owner/builder. The Shelly is not CSA approved and is not Plug & Stay ready. The Shelly needs a municipal build permit approval and foundation and all finishing works need to be completed by the owner/builder.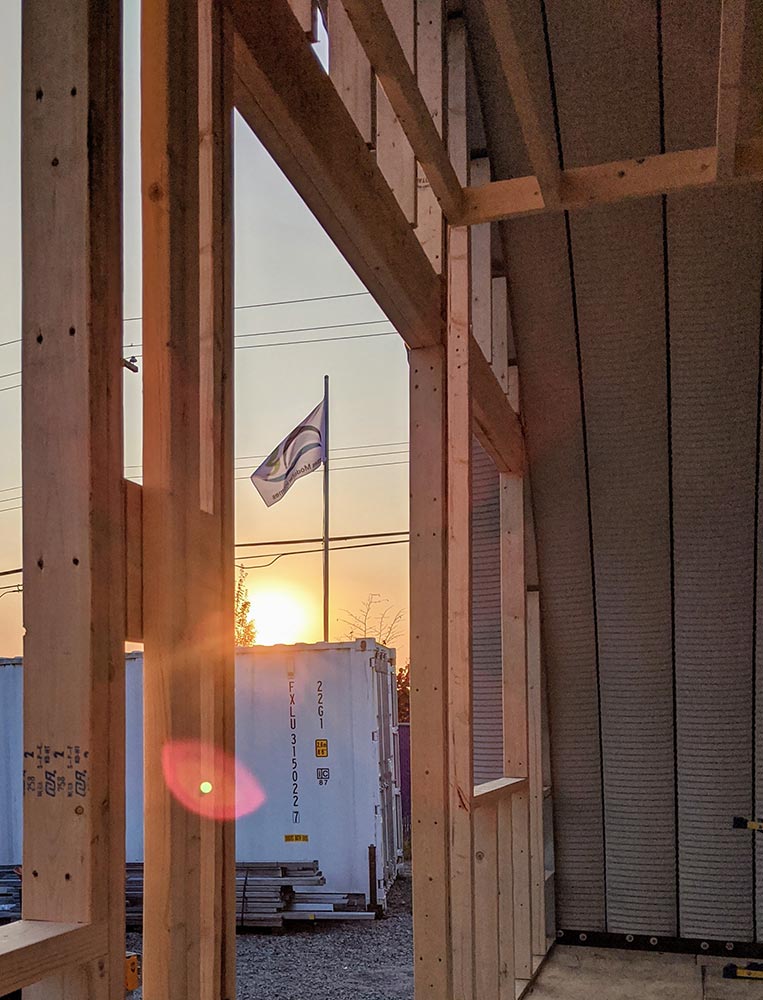 Download The New Model "Shelly Black" Plans
Fill out the following form to view a PDF of The New Shelly Black Plans:
The Shelly is a rugged, low maintenance and energy efficient Dwelling designed for your thermal and spatial comfort. The Shelly is built to resist high winds, torrential rains, heavy snow loads, earthquakes and even wildfires.
We would be honored to show you our Model Homes. They are located in Maple Ridge. Please contact Archie for a showing appointment.
For more details or viewing appointment contact Archie.
604.754.4076
or fill out the form below: